BMS Maschinenfabrik GmbH strengthens sales and after sales service with two new additions
BMS Maschinenfabrik GmbH is pleased to have strengthened its Sales and After Sales Service departments with two experienced professionals. Johannes Gstettner and Christian Poiger bring extensive expertise and many years of experience to their new positions at BMS.
Johannes Gstettner will be responsible for the management and further development of the company's sales activities as Director Sales. He will work closely with the sales team to further strengthen BMS's market position and expand the customer portfolio. Prior to his move, Johannes Gstettner was, among other things, Sales Manager in the Latin America region at Krones AG.
Also new to the BMS team is Christian Poiger, who joined in February 2023 as Director After Sales Service. Christian Poiger was previously Head of Sales Life Cycle Middle East & Africa at Krones AG and brings with him extensive experience in international sales and customer service. With his expertise, he will further strengthen the After Sales Service team of BMS and the entire EOL Group and contribute to customer satisfaction.
"With Johannes Gstettner and Christian Poiger, we are complementing our young leadership team and setting the course for the future of BMS," says Thomas Lehmann, Managing Director of BMS Maschinenfabrik GmbH."
"We are delighted to welcome Johannes Gstettner and Christian Poiger in our team," says Sebastian Jost, Managing Director of BMS Maschinenfabrik GmbH. "With their impressive professional backgrounds combined with their extensive international experience in the beverage and engineering industries, we are confident that they will contribute to the growth of BMS and the entire EOL Group," says Sebastian Jost, CEO of the EOL Group.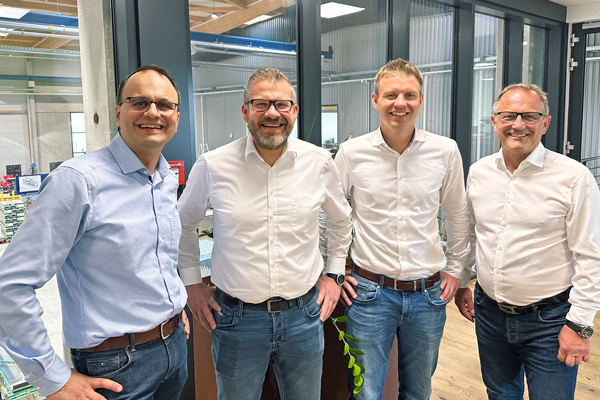 Sebastian Jost,Christian Poiger, Johannes Gstettner und Thomas Lehmann
Pfatter, 27.04.2023
About BMS Maschinenfabrik GmbH:
BMS was founded in 1992 in Pfatter near Regensburg. The company develops and produces packing and palletising systems as well as transport technology for the beverage, dairy and food industries. As a system provider, BMS designs and supplies individual systems for the dry section, the sorting area and the repacking area. Since 2020, BMS has been part of the international group of companies EOL Packaging Experts GmbH, which offers end-of-line packaging machines and systems. Under the umbrella of the parent company EOL, a strong international industrial group has been created with BMS Maschinenfabrik GmbH, A+F Automation + Fördertechnik GmbH, Standard-Knapp Inc. and NEO Conveying Intelligence Lda. EOL's focus is on sustainable, long-term growth, which will lead the group of companies and their customers into a successful future.