Welcome to BMS
Dynamic concepts and flexible solutions – tailor-made to suit specific needs
For over 25 years now, BMS Maschinenfabrik GmbH has been regarded as an innovation leader in the packing and palletising plant sector as well as in conveyor technology, particularly for dairies and the beverage and food industry. Our key objective is to provide you with the highest level of precision and safety – this is the standard by which we measure ourselves day by day.
Our portfolio as a system provider covers the project planning and implementation of customised plants for the dry part, the sorting area and the repacking area. We are also ready to support you in the installation, commissioning and maintenance of all machines. A service package individually tailored to your needs simplifies the processes and makes them more economical.
We develop systems that are 100% compatible with the technical and economic framework conditions. Always in line with the latest state of the art and focused on process optimisation, allowing you to concentrate more on your core business activities. With BMS at your side you have full control at all times.
---
Decades of experience – 25 years of BMS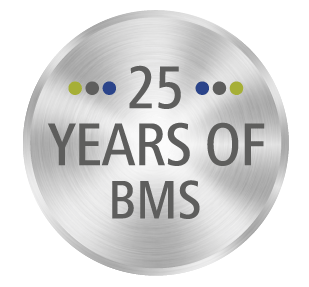 For a quarter of a century BMS has stood for individual solutions, top product quality "Made in Pfatter" and an all-encompassing service for packing, palletising and conveyor equipment for the beverage, dairy and food industry.
---