By Thomas Anderegg, Managing Partner at CGS
You can read the interview and more on CGS Update
To set up succession and step down gradually – that was Thomas Lehmann's plan when he sold a majority stake in his company BMS Maschinenfabrik to End of-Line Packaging Experts (EOL) in 2020. But things turned out quite differently, not least because CGS' Buy & Build strategy won him over.
Alongside the purchase of BMS, the search was on for a new group CEO for EOL. Thomas Lehmann, as the largest co-shareholder, was involved in the process. After discussions with his team and family, he threw aside his original intention to step down gradually and asked the CGS partner in charge: "Why don't I do it myself after all?"
An outright stroke of serendipity – Thomas Lehmann and his management team know the technology and the industry and they overcame, with BMS, the very challenges that EOL is facing now. He and his closest colleagues are currently managing EOL and BMS in dual functions, which they will successively hand back over in the course of 2021.
Mr. Lehmann, you sold BMS to the EOL Group in spring 2020 – why? Was BMS too small by itself?
Yes, we were too small. We had the potential to grow, but we also knew that we would probably not be able to handle the growth on our own. On top of that, there was the issue of succession. I wanted to make sure that the company could stay in business with solid management and to give the employees certainty early on about their future. Since no one in my family wanted to take over the reins, we asked professionals to help us find a partner.
Did you consider other options at the time?
We considered everything, from industry partners and family offices to financial strategists. In the end, we were left with two possible solutions. EOL, with CGS in the background, was one of them.
What tipped the scales in favor of EOL?
The Buy & Build strategy completely won me over. I had always been wary of financial investors. As an outsider, you get the feeling that they pull the money out of the company and throw away the shell. But if you look at the portfolio companies of CGS, you can see that the Buy & Build strategy is a sustainable approach. We quickly realized that it would provide much greater impetus and create many more opportunities to achieve our goals. We were always treated as equals during the talks with CGS, and that fits in well with my philosophy of togetherness.
Is the Buy & Build strategy working as you expected?
Absolutely. I've been on board for just over a year now, and we're right on track. We are currently merging the companies, especially the two German units. Unfortunately, merging activities with the American company are only possible to a limited extent at the moment due to the pandemic.
Alongside BMS, the German firm A+F Automation + Fördertechnik and the American company Standard-Knapp also belong to EOL. How do the three companies complement each other?
They complement each other perfectly because they all work with similar containers and packaging. There is also some customer overlap. BMS currently has an order volume of unprecedented size that it cannot handle on its own. That's why we have started to concentrate technology at A+F that we need for both companies. This is helping us to free up capacity at BMS and to manufacture more cost-effectively overall.
In the medium term, A+F and BMS will use Standard-Knapp's platform to break into the immense US market. With the combined expertise, we can expand our presence in the American market. A+F also offers BMS the opportunity to expand its machine portfolio and develop combined machines. BMS would not be able to do this on its own.
What is the added value of working with CGS?
Its external consulting services are very valuable. I appreciate our close dialog as equals, as it is based on respect and trust. I get the open and honest opinion of CGS – without the obligation of having to do it that way.
Which core projects do you want to pursue with EOL?
The priority is lean production, which we have made very good experience with at BMS. We also want to develop joint machine concepts and combined machines for carton handling and packaging. The digitalization of all value- adding areas is also a core concern, from cloud-based project management to commissioning with the help of the digital twin, the digital copy of the physical machine. This entails many advantages for our customers and EOL. Overall, we want to be able to build machines faster and better and commission them more quickly.
Where do you see the EOL Group in the next five years?
We want to be the first port of call for complete end-of-line packaging. We will also be present in the important Asian market, where we already put out feelers before the pandemic.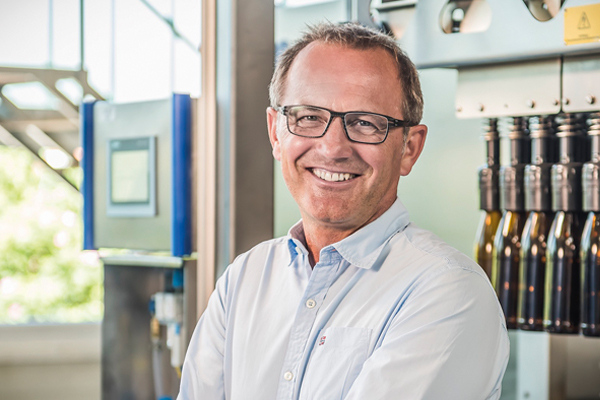 "Successful business management is like soccer: individual players can score goals and win a match, but you can't win the champion- ship without the right approach to the game, a suitable coaching staff, and a motivated team." Thomas Lehmann, 57, CEO of EOL.
Buy & Build strategy
CGS invests in small to medium-sized companies in Germany, Austria, and Switzerland (the DACH region) with turnovers ranging from EUR 10 to 80 million and transforms the businesses into market-leading industrial groups in their niche, usually with two to four add-on investments worldwide. CGS only invests in industries in which it has operational experience: automation, construction supplies, industrial equipment, plastics, machinery, apparatus, and accessories as well as measurement and control systems/sensors.
Based in Pfatter, Germany, BMS Maschinenfabrik specializes in packing and palletizing systems for the beverage, dairy, and food industry. The company develops and produces the systems and offers comprehensive service, from planning and control to delivery, assembly, commissioning, and maintenance.
EOL Packaging Experts is a global manufacturer of integrated, high-grade end-of-line packaging machines and automation for the dairy, foodstuffs, and bever-age industries as well as for consumer goods. Founded in Germany in 2017, the group now includes the German subsidiaries A + F Automation + Fördertechnik and BMS Maschinenfabrik as well as the American company Standard-Knapp. Its turn-over amounts to around EUR 70 million. The group's CEO Thomas Lehmann has lived in the US and in Asia and knows both of these important market regions first-hand.
You can read the interview and more on CGS Update