Service-Hotline
24/7 BMS Service hotline – always ready to assist you
Having trouble with your machine? Just give us a call. You can reach us 7 days a week, around the clock, and give us details about your problem. This will immediately set off a sequence of services. Our goal: to get everything running smoothly again. As quickly as possible.
Already during the initial phone call a member of our Hotline staff will ask targeted questions about the problem to provide us with all the relevant information. Details of your concern are then stored in our system and you will be sent an email confirming receipt of your request. The respective information is simultaneously sent to our specialists via email or text message.
Whenever action is needed fast: Just give us a call!
+49 9481 – 94 213 99
Our service hotline is available around the clock:
24/7!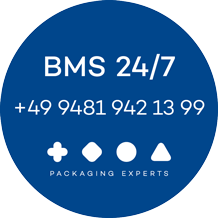 ---